5 of Italy & Spain's best wineries for groups of friends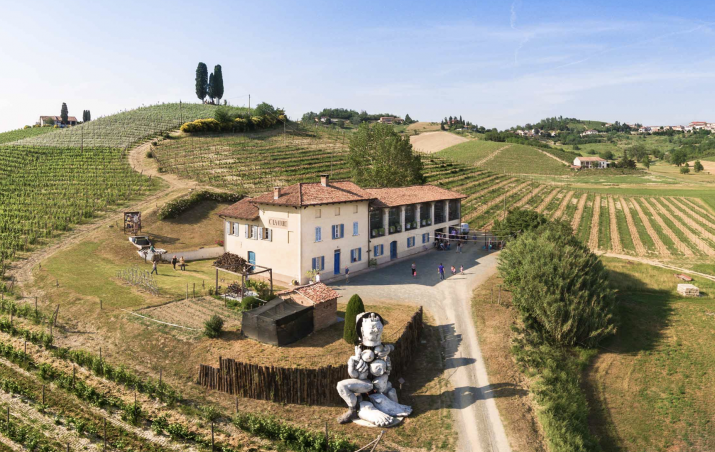 When visiting Europe, a winery is most certainly on the cards. There are so many wineries that it can often be hard to choose. That's why our expert sommelier, Sonia Speroni, has compiled a list of some of the best wineries to visit in Italy and Spain with a group of friends. From hospitality to exclusive and unique experiences, you are sure to find somewhere you want to discover on this list.
Michele Chiarlo, Palas Cerequio, Piedmont – Italy
Palás Cerequio is located in the Langhe wine region. It is in the heart of one of the most famous crus of Barolo. Michele Chiarlo, the owner, founded his winery in 1956 with a clear vision to acquire the best crus in Piedmont, in order to make wines that express the essence of the territory.
Why is it good for groups?
The winery's estate includes the first open air art museum, Art Park La Court. It is located among the vineyards, featuring works by Emanuele Luzzati, Ugo Nespolo, Giancarlo Ferraris and Chris Bangle. You can exclusively book the hotel Palás Cerequio and enjoy the pool and restaurant. You will also only be a short drive to Michele Chiarlo's winery and the nearby the Art Park La Court.
Podere La Marronaia, Tuscany – Italy
This winery encapsulates the true Tuscan dream. Located at the heart of Chianti, near San Gimignano, it is run by the Dei family. They produce organic olive oil, Chianti wines and Vernaccia di San Gimignano wine made with an indigenous grape variety.
Why is it good for groups?
The location, the vineyards, and the warmth of hospitality make this location unique. As a group of friends, you can enjoy a wine tasting lunch or add in a cooking class with the family.
"It exceeded; no it blew away our expectations. The view, the hospitality, the private experience and of course the wine, olive oil and food! Can't say enough wonderful things."
Feudi di San Gregorio, Campania – Italy
Located near Naples in a region called Irpinia, this winery is said to be the leading winery of southern Italy. Many local producers in Italy have uprooted old vines in favour of international grape varieties. However, Feudi has maintained the local heritage and continued to cultivate native varieties.
Why is it good for groups?
This wine estate is unexpected! Tastings take place in their exclusive 'Wine Theatre' and you can then dine in their amazing restaurant– or what they refer to as a 'gastronomic laboratory' where they experiment to bring out the best flavour in every ingredient. It also now has a new exclusive wine resort, Foresteria, where your group of friends can enjoy their stay.
Bodegas Tío Pepe, Jerez De La Frontera – Spain
This winery is located in the historical centre of Jerez de La Frontera in a breathtaking Andalusian courtyard. It came in 18th on the World's Best Wineries list for 2020. The winery has also added a new page to its story with the launch of a boutique hotel of just 27 rooms, each "imbued with the culture and essence of Sherry wine" and is the very first Sherry Hotel in the world. Visit this winery on our Southern Spain itinerary – view more here.
Why is it good for groups?
Staying with friends at the new hotel gives you a totally immersive experience where you can learn more about the wines, the history and culture. You and your group of friends will be able to take advantage of their special services. These include; personalised trips through the winery, exclusive tastings, walks through the vineyard, and tours of the winery's historic archive and the old bottling room.
Familia Torres, Penedes – Spain
Family Torres is one of the most renowned wine families in the world for their wine estates located in Spain and Chile. They are also known for their commitment to the environment and sustainable practices. Their Spanish winery in Penedes is located in a renowned sparkling white wine region, perfect for a day trip from Barcelona. The winery is designed by architect Javier Barba, and harmoniously integrated into the surroundings. It also came in 42nd on the World's Best Wineries List in 2020.
Why is it good for groups?
As well as being one of the best wineries in the world, with a spectacular view, Familia Torres offers a number of fantastic group experiences. These include; harvesting workshops, wine tasting and gastronomic experiences at their Mediterranean restaurant, and a harvest dinner amongst the vineyards. In September during the local Harvest Fair, your group of friends can also enjoy love music and a gastronomic experience on site.
Tags:
Wine
,
Tuscany
,
Piedmont
,
Campania
,
Naples
,
winery
,
Jerez De La Frontera
,
Penedes
,
Southern Spain