The Wine Regions of Tuscany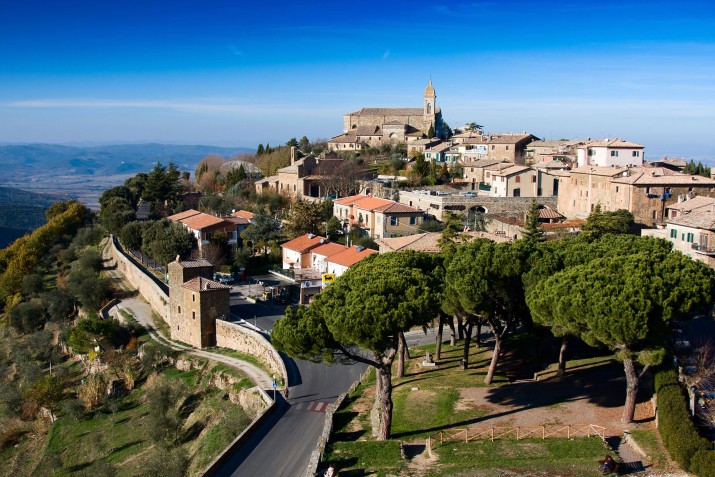 Tuscany is one of the most important regions in Italy for wine production and is very famous for the quality of its wine. Not surprisingly, events such as Benvenuto Brunello, Pitti Taste, Expo Del Chianti Classico, Florence wine Festival (just to name a few) are attended by the most important wine collectors from all over the world.
This region has many indigenous grape varieties as Sangiovese, Colorino, Ansonica, and Vernaccia, as well as international grape varieties including Merlot, Cabernet Franc, Cabernet Sauvignon and Pinot Bianco.
Here is a summary of the most important wine regions of Tuscany (and their wines that are exported abroad).
Chianti
Chianti covers a quite big production area that incorporates the provinces of Lucca, Arezzo, Pisa, Pistoia, Prato, Florence and Siena. The most famous Chianti wines are those produced between Florence and Siena, in Gaiole in Chianti, Radda in Chianti, Castellina in Chianti, the Castelnuovo Berardenga municipalities, and the navel of the world for wine lovers commonly known as the real Chiantishire.
It's hard to profile the tasting of Chianti Classico, due to the complexity of its variegated soil. Simply put, it is full body ruby red produced with the Sangiovese grape and may contain wine grapes like Canaiolo, Colorino, Cabernet Sauvignon and even Merlot. The aromatic profile is characterised by red and black berried fruits, vanilla, licorice, cinnamon, nutmeg, black pepper and balsamic hints of menthol and eucalyptus, and dark espresso.
Wineries are scattered across the Chianti region, welcoming guests and offering different wine experiences. You'll find wineries run by noble families through generations, situated in beautiful castles amongst hills blanketed by vineyards, alternating with woods where wild boars live, and the locals get their basic ingredients for traditional Tuscan recipes that combines perfectly with Chianti wine. Each small hamlet has a secret to reveal so it's worth stopping to discover the castles and abbeys and get lost in the small local food markets.
Montalcino
Montalcino is a village that dominates the Val d'Orcia, south of Siena. It offers the quintessential image of Tuscany and is part of the UNESCO World Heritage site list, oak forests, olive grove, rolling hills characterized by cypress trees, sunflowers fields and wheat fields speckled by red poppies.
This region is rich in hillside vineyards, ancient villages and intense wines. It is a must for any true wine lover. The most renowned wine is Brunello di Montalcino, expensive, and delicious, not only because of its pure composition (100% Sangiovese grape) but also because of its four-year aging process. Brunello di Montalcino is considered more full-bodied and darker than its cousins in Chianti. Other wines from the area include Rosso di Montalcino, and Moscadello, a sweet wine made from Moscato grapes.
As you enjoy the wine in this beautiful part of Tuscany, you can also explore romantic Pienza, the ideal city and the setting of Zeffirelli's film "Romeo and Juliet",  and renowned worldwide for Pecorino cheese production, the San Giovanni d'Asso's Truffle Museum and Bagno Vignoni, famous for its striking thermal water baths in the town square.
Vino Nobile di Montepulciano
Montepulciano is a picturesque hill town 40km southeast of Siena. Viticulture here dates back many centuries to Etruscan times. Vino Nobile di Montepulciano is a wine which must come from vineyards on the hills which surround Montepulciano between two rivers, Orcia and Chiana. It is produced with the Sangiovese grape and it can be complemented by a small percentage of Canaiolo and other local varieties permitted in the province of Siena, including the rare, violet-scented Mammolo. It is characterised by its dark cherry and rich plum aromas, strawberry and cherry fruit flavors, and a gently tannic "tea-leaf" finish. Some described Vino Nobile di Montepulciano as having the perfume of Chianti Classico and the richness of Brunello di Montalcino.
The villages of Montepulciano have been kept intact in all its ancient splendor from the Etruscan and Roman origins. Every year, on the last Sunday of August the "Bravio delle botti" a well-known barrel rolling contest occurs where competing districts draw thousands of locals and tourists.
 Vernaccia di San Gimignano
Vernaccia di San Gimignano is one of the few Tuscan white indigenous grapes and it is mentioned in Dante's Divine Comedy but, despite its prominence, does not seem to be as internationally renowned as its acclaimed cousins Chianti, Brunello and Vino Nobile di Montepulciano. Nevertheless, its fame has no doubt been strongly connected to its region of origin, San Gimignano, a hill top town located about halfway between Florence and Siena, which offers a rich past and fascinating architecture. Despite the passing of the centuries, San Gimignano managed to preserve its Medieval architecture and its charm and today is with no doubt one of Tuscany's greatest small treasures. The "city of the beautiful towers", as it is often called, has been a recognised UNESCO World Heritage Site since 1990.
Bolgheri
The small village of Bolgheri lies in the Province of Livorno, not far from the Tyrrhenian Sea and it has been immortalised by local writer Giosuè Carducci in his poem "Davanti a San Guido".
Bolgheri is set in the countryside amidst olive groves and vineyards, while the town boasts delightful architectural balance.
The Bolgheri wine region is renowned worldwide, blessed by a unique microclimate that is both dry and sunny, perfect for the Bordeaux grape varieties, such as Cabernet Sauvignon, Merlot and Petit Verdot. Sassicaia ("Best Italian Wine Awards" 2019), Ornellaia and Masseto are just three of the extraordinary wineries located here. Accessible from Florence, Pisa and Siena, it is a perfect destination for a day tour that includes one or two wine tastings and great lunch in one of the Bolgheri osterias, all famous for high-quality grilled meat.
Other minor Tuscan wine regions are Morellino di Scansano, Montecarlo, Val di Cornia, Colline Lucchesi probably less famous and less represented abroad but beautiful to discover and surely outside tourist paths.
Discover the Tuscan wine experience on one of our Small Group Journeys or Private Itineraries that can be customised to suit your preferences, dates and budget.
Tags:
Tuscany