The ultimate guide to creating a family friendly itinerary in Europe
Europe offers a wonderful diversity of countries from which to choose your next family holiday. Yet having the whole family with children travelling together means some extra planning! This will ensure your family trip will be a fantastic and memorable experience.
Here is our ultimate guide to making your next European holiday a wonderful time for everyone!
1. Younger vs older kids
The age of your children should be taken into consideration when building your itinerary. The needs of a baby or toddler during your trip will be different than a school-aged child or a teenager.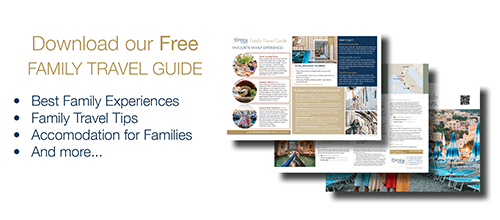 Flexibility
Some things to consider with younger children include being flexible with your daily schedule to not overtax young feet or attention spans. For example, don't plan a walking tour that covers too great a distance. A private guide for a walking tour is better option to a larger group tour, particularly if the guide has experience with having children on their tours. They offer flexibility as needed. And, they can also cater especially to your child's and the whole families interests.
Baby's needs
If you have a baby and need a ride to an attraction, consider a private driver as taxis may not be equipped with a baby seat. Keep your youngest children on a schedule close to what they are used to at home, such as when they eat and when they nap or go to bed. Bring their favourite toy along on the trip, and make a game taking pictures with them seeing the sites!
Downtime
Don't overbook the day with too many things to see and do. Some downtime at the hotel pool can recharge youngsters and have them excited about the next day. Mix structured activities with open play time in a local park will allow the kids to let off steam and run around.
Get involved
For older kids, get them involved in the planning of the trip before it begins. This will help them feel more personally engaged once they arrive. Let them decide on what they'd like to do on a certain day, or what they'd like to see on a walking tour.
Accommodation
Take your kid's interests into consideration when deciding where to stay. What's more appealing? It could be a large city hotel with a swimming pool and other family activities, or a farm setting in the countryside where the kids have room to run. Read our Guide to choosing the right type of accommodation for your family when travelling here.
2. Building great itineraries
Here are some ideas to keep your kids on board with the plan and having fun things to look forward to. Make sure to build in break times from hitting the sights.
Discover and tour a new way
Add in a picnic such as in one of London's parks or near the Eiffel Tower or take one of the children-oriented museum tours such as the one offered at the Louvre in Paris. Museums can be overwhelming to kids, so special tours that offer scavenger hunts or other fun activities will help them enjoy the experience and begin to be exposed to great art and history.
Keep key interests in mind
Build your itineraries with your kid's interests in mind. Are they interested in history? Take them on interesting tours like at the Tower of London or Rome's Gladiator School at the Colosseum. Any budding archaeologists? In Italy, plan a trip to the fascinating ruins of Pompeii. Young art and fashion fans will be in heaven in places like Florence or Paris.
Immersive learning for the whole family
Build in an activity that helps your children learn something about the local culture in a fun way. This could be something like an afternoon tea bus tour in London. You can often find local cooking classes and learning about traditional dishes, with a delicious meal afterwards. Or maybe a crafts tour in Florence where the kids could watch artisans at work. Consider an activity that gets the kids active while still seeing the city, such as a bike tour. You'll see the city in a new way and maybe make some new discoveries.
3. Other ways to engage your children
Before you leave
Get your children involved early in the planning for your European trip. Show them the places you'll visit and read about what's most interesting about each one. Ask them what they'd be most excited to see. Try to have them learn a few words in the new language. Let them know what foods they'll find in the local restaurants. Tell them what things they could buy in local stores as a souvenir to bring home (a little pair of wooden Dutch shoes from Holland or a Paddington Bear stuffed animal from London).
Give them choices
Another great way to get your children involved with the planning is to give them specific choices from several things they could do on a particular day. If you're headed to Italy, let them decide whether they'd prefer to make pizza or gelato in a local cooking class. In London, would they rather go on a movie locations bus tour to see where such films as Harry Potter where shot or take a ride on the London Eye Ferris Wheel? Let the kids take ownership of some of the decisions on what you'll be doing.
Wherever you'd like to go in Europe, our team of travel experts can help you put together the best family friendly vacation that best suit your family's needs. Contact us today!
Tags:
family
,
kids