Review of the Hotel Splendide Royal, Rome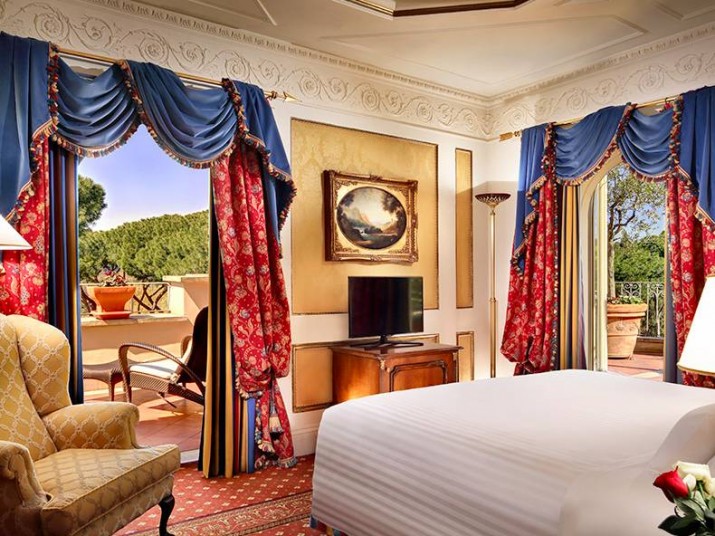 Review of the Hotel Splendide Royal, Rome – As a main entrance point in and out of Italy, for me, staying in Rome is a balance of finding somewhere relaxing enough for me to unwind and get over my jet lag, as well as finding a traditional fit that really gets me excited to explore the history and beauty of this city. Hotel Splendide Royal ticks all these boxes!
A 5 star hotel that was once a 19th Century palace, the property is classically styled in Rococo or late baroque. This is classic Rome inspired by the red, blue and yellow colourings of the Vatican Guard, with generous sized rooms elegantly furnished with plush fabrics, French furniture and marble bathrooms. The rooms are always clean and well maintained, as well as being spacious and luxurious, as you would expect from a 5 star hotel.
Two of the great features of the hotel are the breakfast room and restaurant on the 6th and 7th floors, which both have stunning views from the outdoor patio overlooking the spectacular Borghese Gardens and across Rome – one of the best you can get. The 7th floor Mirabelle Restaurant also has a private dining room housed in its cellar – a must do if you are with a group!
The staff here are also very helpful, with nothing being too much of a problem for them. They really do go above and beyond to make you feel at home and also have some great restaurant recommendations.
It's an easy walking distance to the Spanish Steps, Trevi Fountain, Villa Borghese, Via Veneto (about 10min to each) and a reasonable distance from all the other Rome attractions and the central train station. You will have to use the train if you want to go to other attractions further out such as the Colosseum, Vatican and Trastevere.
Another quick tip on it's great location… with Rome being extremely hot in the summer, this property is a nice escape as its proximity to the park and the large shaded trees gives you a nice escape from the blazing sun!
If you're looking for a value for money 5 star property in a beautiful traditional style, then Hotel Splendide Royal is perfect for you!
Contact us today to get prices on the Hotel Splendide Royal or any other hotels in Italy.
Tags:
Hotels
,
Rome
,
Great Hotels
,
5 Star