Pici all'aglione Recipe
It's time to get cooking! Enjoy a number of recipes from our at home Italian chefs here. Barbara from Siena in Tuscany has kindly shared her recipe for us to all make. Read our interview with Barbara here.
Pici all'aglione
Pici all'aglione is a Tuscan fresh pasta recipe that is typical to Siena. Pici are thick hand-rolled spaghetti made with a simple flour and water dough, with an equally simple sauce. It's made with tomato and "aglione", which is a local type of garlic that has a much more sweet and delicate taste.
Ingredients
200 grams of wheat flour
100 grams of durum wheat (remember: two parts of wheat flour and 1 part of
durum wheat.
This way you won't need eggs)
2 tablespoons of extra-virgin
olive oil
1 pinch of salt
Water, as needed
For the sauce
Garlic
500 gr tomato sauce
Olive oil
Hot pepper
Method
Mix the two types of flour. Add the olive oil and a pinch of salt. Do not overdo the salt because the dough becomes hard. Add the water and when the dough begins to stick, knead energetically using the palm of your hand. If necessary, add water or flour.
Knead the dough energetically for at least 10 minutes until you obtain a smooth and soft consistency. Remember that your "ball" of dough is a living thing, so you must take care of it! 🙂 Let the dough rest for half an hour wrapped in foil.
When the dough is ready, cut a piece and make a ball, then roll it out with a rolling pin to a thickness of 1 cm. With a pastry cutter or a sharp knife, cut into many thin strips of 1 cm and cover the rest of the dough with plastic wrap to keep it from drying. Roll the dough with the palm of your hand and stretch it outward at the same time. Once you have finished your pici, cover with some flour so that it does not stick to the others.
Now boil some salted water, add your pici and cook them for about 5 minutes (when they rise to the surface, they are ready).
Heat quite a bit of olive oil in a high-sided skillet, add very finely minced garlic (or blend with olive oil like a cream) and hot pepper, and when it begins to brown add finely cut tomatoes.
Continue cooking, stirring constantly, until the water has evaporated and the sauce is dense. At this point add salt to taste. By now the pici should be al dente; drain them, transfer them to the skillet while the colander is still dripping a little, and move the skillet as you would if you were flipping an omelet to coat the strands with the sauce.
Some important notes while you prepare your pici:
It doesn't matter how long your pici are. The length does not affect the taste!
Pici should not be too thick. The correct size is more or less like the diameter of "bucatini" pasta.
If they break while you're making them, don't worry! You will have some shorter pici.
Pici are not perfect! They shouldn't be 😉
Participate in a live cooking class with one of the cooks in this at home cooking community and enjoy making traditional Italian recipes with a local from your own kitchen.
Use the code: ORMINATOURS to get 10% off.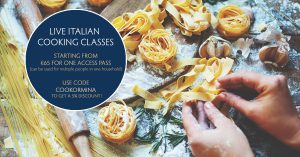 Click here for more information.
Tags:
Tuscany
,
Siena
,
cooking
,
recipe