Italian Home Cooking in Siena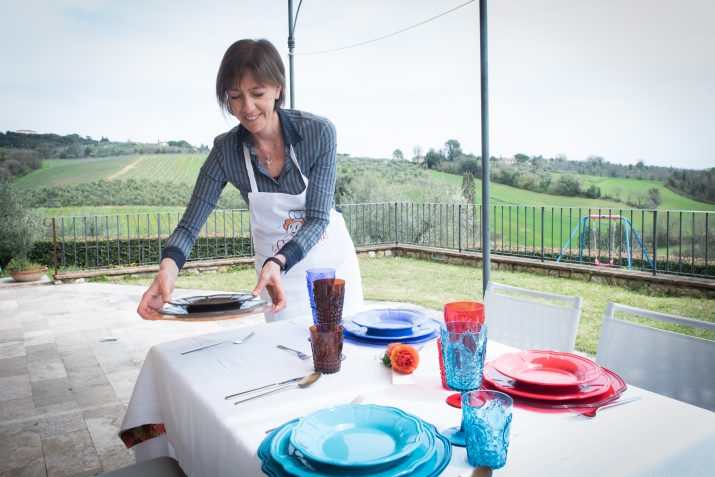 Ormina Tours proudly works with a network of home cooks across Italy to give our travellers a unique local experiences that immerses them in the traditional Italian culture. You can also enjoy a cooking experience in a local's home in Tuscany on our Tuscan Villages Tour.
Here we speak with Barbara from Siena in Tuscany about their journey cooking with guests from all over the world.
How did you become part of the home cooking community in Italy?
I've always loved cooking, just as my mother and grandmother did before me. When I met my husband, who lives in a little hilltop village just outside Siena, with its amazing views of the Tuscan countryside and felt at home straight away: the olive groves, the wood-fired oven, the vegetable garden with hens wandering about, I knew I'd found home. This place is a little corner of paradise that I just wanted to share. I was looking for a way to make something out of my passion for cooking in my own time, as I have children to look after, and that's when I discovered Cesarine. Joining the association gave me the chance to connect with my love of community and tradition that has always been a huge part of my life, even since I was a little girl making pasta with my grandmother, using eggs from our own chickens. Being part of the association has been a wonderful experience; I think the most important ingredient, other than love, is joy. Joy is behind everything I cook and is the emotion I want to share with everyone who comes to share my story at home.
Where do your guests come from?
My guests are mostly from the USA and around Europe. Italy is synonymous with good food, ancient culinary traditions and hospitality. Those who seek a genuine connection with Italy on their travels can't miss out on our food. Home cooking experiences are the best way you can do this, as they bring together real family traditions and the Italians' desire to share their love of conviviality. This is why we have been so successful; my guests always tell me that out of everything they did on vacation, they learned the real secrets of Siena's cuisine when they took part in an experience at my house.
Enjoy this experience on our Tuscan Villages Tour.
Which are your most requested Italian recipes?
Fresh pasta and tiramisù are my most requested recipes. Whether it's tagliatelle, fettuccine, ravioli or gnocchi, my guests can't wait to roll up their sleeves and create something for themselves. When they taste what they've made, it's a really special moment. A cooking class is a wonderful experience, but learning to make pasta with a real Cesarina, breathing in their ancient family traditions, is unforgettable. It brings the guests into the heart of the family that is hosting them, a little piece of history.
Which local recipe do your guests enjoy making in your cooking classes?
Definitely "Pici all'aglione" (see the full recipe here). It's a Tuscan fresh pasta recipe that is typical to Siena. Pici are thick hand-rolled spaghetti made with a simple flour and water dough, with an equally simple sauce. It's made with tomato and "aglione", which is a local type of garlic that has a much more sweet and delicate taste. My guests love making Pici, as it gives them a chance to get their hands dirty and experience the enormous satisfaction of eating your own homemade pasta.
Did you cook during the lockdown? If so, what did you make?
I am cooking non-stop, my kitchen is a hive of activity! I've been making a lot of bread for my family, from breakfast bread, to focaccia and pizza. I love trying out new flavor combinations and experimenting. When I make biscuits, my children come running into the kitchen to enjoy that 'freshly baked' aroma. During the lockdown, my "production rate" has doubled! I've been able to invent lots of new recipes and can't wait to share them with my guests. I've been making bread with organic flour from a local mill, and I tried adding sunflower seeds to the dough, which turned out to be the perfect match for my cavolo nero and pecorino pesto! I also made a gorgeous apple cake with custard cream that my family loved.
Which recipe would you like to share with us today?
PICI ALL'AGLIONE – click here for the full recipe.
Participate in a live cooking class with one of the cooks in this at home cooking community and enjoy making traditional Italian recipes with a local from your own kitchen.
Use the code: ORMINATOURS to get 10% off.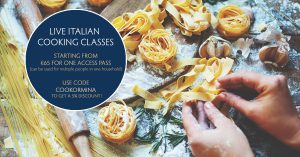 Click here for more information.
Tags:
Tuscany
,
Siena
,
cooking