Discover Europe's Winter Wonderland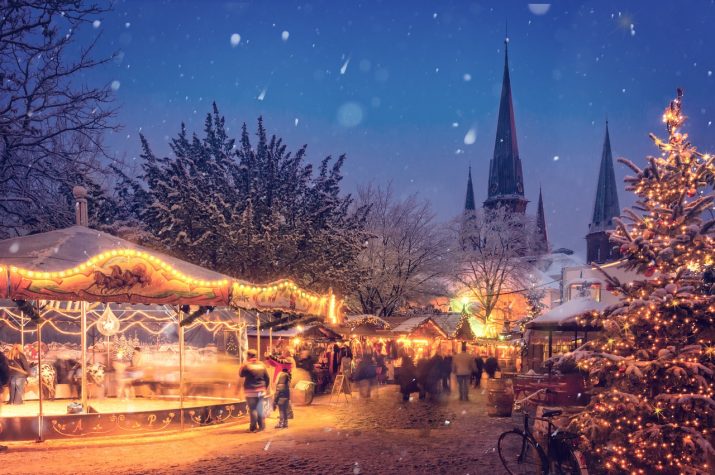 Europe is a magical place to discover in the cooler months, particularly because it can offer such a different experience in Winter than the more popular Summer season.
The first thing that springs to mind is, of course, a white Christmas! Combine this special time of year with a discovery of new experiences and traditions that will make it a holiday to remember. Here's why we think Europe in Winter is a hot contender:
Scenery
We've all seen countless images of Summer in Europe plastered all over our screens year after year, but what about Winter? Mountain peaks, snow dusted architecture and twinkling lights hanging from nearly every lamppost. You'll feel like you've woken up in a fairy tale.
Christmas Markets
Winter in Europe is well-known for its Christmas Markets and the best ones can be found in Germany, Austria and Switzerland. Here you will find delicious local foods, mulled wine and an array of stores selling Christmas ornaments and gifts.
For an enchanting experience including visits to some of the best Christmas Markets across Europe, check out our Christmas Markets, Castles & Prosecco itinerary here.
Snow Sports
You don't have to be a skier or snowboarder to enjoy the snow season in Europe. There are plenty of other activities that you can choose from to give you an exciting and fun new way to experience the outdoors in Winter. These include spectacular hikes through snowy mountains, snowshoeing, sledging and fun on snow mobiles.
See our Dolomites in Winter itinerary for a mixture of fun snow activities the whole family can enjoy!
Local Traditions, Festivals & Activities
Many European countries celebrate their own age-old traditions and cultures in the festive winter months. This can include Il Carnevale in Venice, where the city bursts into life with fanciful masked balls, explosive fashion and extravagant parades. Or perhaps ice-sculpture competitions, ice-skating on a frozen lake or an early start to Christmas festivities with St Nicholas Day.
And, after spending a few chilly hours exploring outdoors you will find an indoor grand café, restaurant or museum infinitely more welcoming. Winter traditions and activities range far and wide and it's worth researching where you are planning to go to make sure you don't miss out!
Festive Tastes
There's nothing like a hot Christmas roast on a cold winters day, and Europe will not disappoint in the food department during these cooler months. Pick up a delicious glass of mulled wine (pretty much anywhere in Europe), or perhaps a warm street dessert like kürtöskalács in Budapest (slowly baked round dough with a variety of toppings to choose from such as cinnamon, coconut, or brown sugar). Bavarian pretzels and a schnitzel will go down a treat in Germany, or perhaps some warm Spanish churros. No matter where you go you will be sure to find a tasty winter treat!
Join our Berlin to Budapest Tour for the winter highlights of Germany, the Czech Republic and Hungary.
Tags:
Italy
,
spain
,
Germany
,
Austria
,
Czech Republic
,
Switzerland
,
Winter
,
Dolomites
,
Christmas
,
Markets
,
snow