Top 5 activities for families in Sicily
Sicily is an amazing place to visit for travellers of all ages! With kids in tow, the island offers an array of activities to keep the whole family busy, inspired and immersed in local culture. We have a list of the best family activities in Sicily for you to add to your itinerary. From striking nature to jaw-dropping history, and tasty treats – Sicily is an amazing destination to discover with your family.
Here are our Top 5 best family activities in Sicily to discover:
Go 4WDriving on an active volcano, Taormina
Mount Etna is one of Sicily's most spectacular natural attractions. It is Europe's largest volcano, among the most active in the world, and is one of UNESCO's World Sites. An exciting way for the whole family to discover the unique volcanic environment is with a 4-wheel drive, off-road adventure! Get up close to the craters or take the cable car to the summit at 2500m.
Indulge in a Chocolate workshop in Modica
Modica is the only city in Sicily with a chocolate making tradition that goes back to the 17th Century. So get ready for an unforgettable hands-on chocolate experience that the whole family will enjoy! Discover ancient local methods of producing chocolate under the expert guidance of resident chocolate makers, and enjoy the delicious treats afterwards.
Discover the Salt pans near Trapani and Marsala
A unique destination with an interesting history, kids will be awed by the vast salt pans of Trapani and Marsala in the west of Sicily. The lagoon is dotted with windmills and the town of Nubia has a Salt Museum to help the family discover the traditions of 'saliculture'.
We recommend going at dusk to see the magical scenery as the sunset reflects on the salt pans.
Enjoy a Sicilian puppet theatre show at Opera dei Pupi, Palermo
The Opera dei Pupi is a cultural UNESCO World Heritage experience in Sicily that will delight younger family members (and adults). The stories convey ideas of honour, chivalry, defence of justice and faith and the need to excel. Discover the Opera dei Pupi in Palermo at the Charlemagne Theatre.
Immersive learning at The Archimedes & Leonardo Museum, Syracuse
Learning through discovery is the perfect way to get kids involved on your trip. A visit to The Archimedes & Leonardo Museum will give you just that! The whole family will have fun at this immersive and inspirational museum. With tactile machinery and exhibits everyone can learn about the basic workings of mechanic, the rudiments of physics and the scientific basis of many inventions.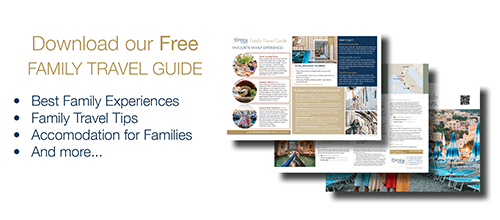 No matter how old your children, Sicily has plenty of activities for families to enjoy and discover the best of the region. Our Sicily Bella itinerary is the perfect place to start planning your family holiday. Get in contact with us today for a free quote, and we can help you build an itinerary to suit your family's needs.
Tags:
Sicily
,
Modica
,
Palermo
,
Taormina
,
family
,
Syracuse
,
Trapani
,
Marsala