The Crypts and Catacombs of Rome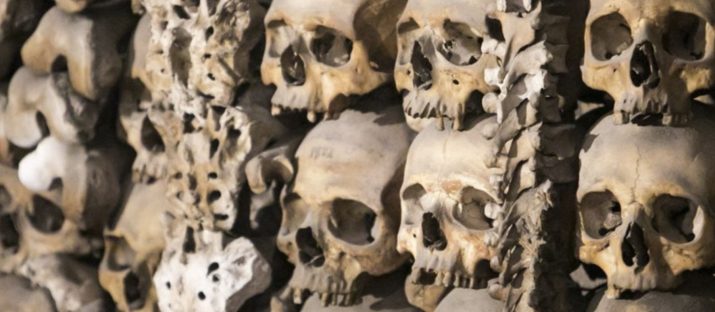 Rome has so much to offer travellers with ancient and modern delights, culture, food and shopping. As a main gateway to Italy you may have already visited Rome a few times, or perhaps you are visiting for the first time and you are looking for something a bit different…
Embark on a unique and underground walking tour of Rome and discover the ancient secrets of its crypts and catacombs.
If you are looking for a one of a kind experiences in Rome then this tour could be for you. You can add it on to our already fabulous recommended Rome City Break itinerary or take the tour whenever it suits you. Simply contact us for more details!
Discover the Bone Chapel
Start your tour in the Capuchin Crypt, better known as the "Bone Chapel", because it is adorned with the mortal remains of some 4,000 deceased monks.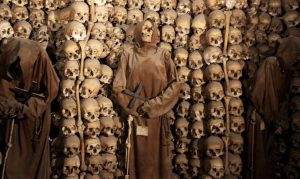 The bones were collected between 1528 and 1870 from the old cemetery of the order of Capuchins and later moved to the Capuchin Crypt. As you move through five decorated chapels you will also see some mummified Capuchin friars. Each room tells a story and gives insight into the monks' take on life and death.
Walk through hundreds of burial chambers
Head outside the main walls of Rome to discover the Christian Catacombs. Built during a time when Christianity was illegal and considered a dangerous cult, whose members were executed as heretics and buried as martyrs.
Archaeological excavations conducted in the 20th century allowed researchers to discover burial grounds dated back to the 1st century B.C. The cemetery kept expanding until the end of the Roman Empire. More than 40,000 people were buried here, in around 13 km of tunnels; different cubicula, little rooms with frescos representing Old and New Testament scenes, are still visible.
The true lasagne of Rome
TheBasilica San Clemente is more than just what you see on the surface. Referred to by some as the "lasagne" – the 12th century Basilica demonstrates the complex history and design of the Romans.
In fact, below this 12th century Basilica you will find 3 more layers of Roman buildings, dating back to the 1st century.
Directly underneath you will see a 4th century Basilica, and as you head further down you will find a 2nd century cult chapel, which happened to be built on a 1st century Roman public building.
This unique tour of Rome will give you a great insight into the complexity of Roman and Christian history. It's definitely one not to miss so contact us today.
Tags:
Rome
,
Best Tours
,
tours