The Best Places to Stay in Puglia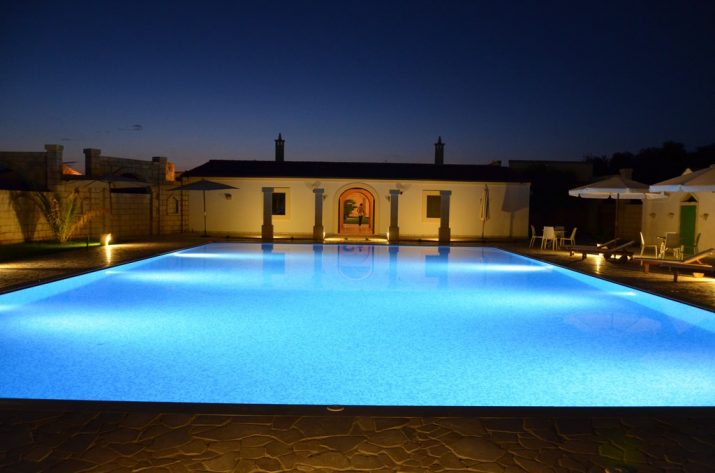 Puglia is a very peculiar destination – imagine a huge lush garden where farmers grow a variety of vegetables, immense hills of olive fields and ancient white limestone villages, all lined by a blue crystalline sea.
On our 8 day itinerary our guests live an authentic Italian experience, including a stay in the traditional houses of Puglia known as "Trullo" – a dry-stone hut with a conical roof, typical of the Itria Valley.
In the Salento area our clients stay in a "Masseria", which is a farm often built with the typical local white stone called "pietra leccese". These ancient farms have been converted for tourism some years ago, when Puglia entered into the luxury tourism market. Now they host people from all over the world, while still producing organic vegetables that are served to their guests. It's very common in Puglia to find some fresh tomatoes dressed with fresh tasty basil and local virgin oil for your breakfast.
It was impossible to not include Matera in our suggested Puglia itinerary, especially since it is the European capital of culture for 2019 (even if it is located in Basilicata region). It is located just an hour from Bari and from Alberobello.
Matera is known as "la città sotterranea" ("the underground city"), its historical center 'Sassi' contains ancient cave dwellings from the Paleolithic period (10th millennium BC).
Locals used to live inside these caves until 1980, now all has been restored and our guests have the chance to stay in one of these caves fully equipped with all facilities and often with a jacuzzi.
There are many hotel choices in this beautiful region and at Ormina Tours we like to support the local economy. When we inspected the Puglia hotel properties, we met amazing local entrepreneurs who have created very unique hotels, hiring local staff, which really makes a difference to their economy.
Here are some of the hotels we love to collaborate with:
Matera
Le Origini Room & Suites
Saverio the young owner, is a member of a family of builders and constructors. After studying at university in Pisa he decided to come back to his beloved Matera and renovate some caves that belonged to his family. Initially they started with three rooms only, but since their success they now have eight boutique rooms, each different from the next, overlooking beautiful landscapes, including view on the famous Sassi. When evenings come there is nothing better than to enjoy a glass of wine sitting in front of the reception, watching people walking on the ancient streets, admiring the sunset that brings up Matera as a nativity scene.
Breakfast is local, fresh and served with love from Francesca, Anna and Saverio.
Lecce area – Salento
Masseria Chicco Rizzo
This Masseria, located in the country side, twenty minutes from Lecce, has belonged to the same family for many years. They grow many different vegetables and produce virgin oil.
Some years ago, this family decided to transform the farm into an exquisite 4 star hotel property whilse still keeping their vegetable and virgin oil production.
Immersed in centuries old olive groves and surrounded by dry-stone walls there is the Masseria Chicco Rizzo, a beautiful farm with only eighteen rooms. Each room has distinctive features and furnishings made by local artisans, the feeling is a refined simplicity.
During the hot Apulian summer, the beautiful swimming pool is like an oasis. Guests can lounge there drinking a delicious local rosé wine from the Negroamaro or Primitivo di Manduria grape.
Donato and Luisa are amazing hosts. At breakfast and dinner our guests can taste their delicious organic vegetables and also enjoy a cooking class.
Trulli Holiday Resort
Alberobello
In 1984 a law came into force in Italy that defined a new hotel classification, the "multi-building hotel". This gave the opportunity to renovate old abandoned houses and apartments in many beautiful Italian villages, and create a central reception managing all the different properties.
The owner of Trulli Holiday Resort, a local entrepreneur, at the time was a young boy. But growing up he understood the potential of the area and he started to buy many trullos to create this new business.
At that time a trullo was sold for nothing because it represented a link with the past that people wanted to cancel (Slow Food at that time was just at the beginning…). Now this movement allows our clients to stay in a beautiful fully equipped trullo, in a true Alberobello neighborhood where the neighbours are locals.
This "multi-trullo" hotel consists of different trullos spread out in the quietest area of Alberobello called "Aia Piccola" – far from the mad crowd of cruise ships.
The reception is centrally located as the breakfast room. Francesco, and all Trulli Holiday Resort staff, welcome our clients with a smile, help with luggage and can suggest the best places to dine and enjoy drinks.
Tags:
Puglia
,
Alberobello
,
matera
,
lecce