Our Review of the Pousada de Lisboa Hotel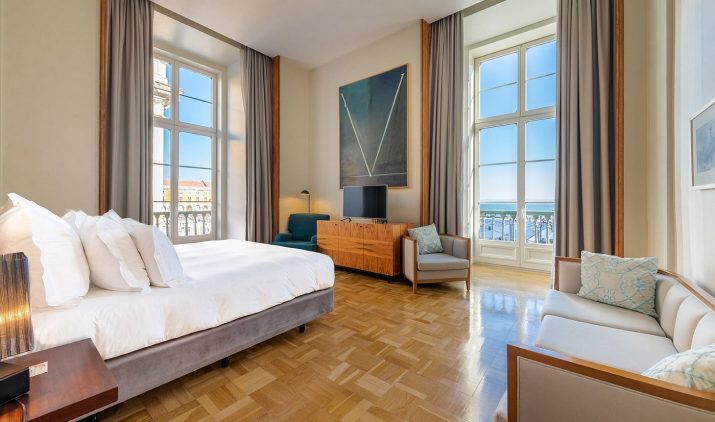 With the Pousada de Lisboa, 5-star hotel, featuring on our Best of Portugal Small Group Journey, we wanted to check out just what our guests were getting at this talked about hotel.
Here is our quick review of the Pousada de Lisboa.
Oozing Style
The first thing you notice about the hotel as you arrive is that it does not fall short of amazing. It is extremely stylish. Designed as a boutique hotel in the heart of Lisbon, it evokes natural beauty. Each room is beautifully decorated with views of the square and other thoughtful touches throughout.
We also love the art and decorations throughout the hotel – they are an attraction in their own right! You can even pick up a booklet that explains the history and background of these art pieces.
Outstanding Staff
Another important aspect that we rate our hotels on is their service. And we love the staff at Pousada de Lisboa. From the warm and welcoming greeting when we arrived, and throughout our stay, the staff were always in a good mood. At the front desk they were always happy to give local recommendations and offer any help organising guides, transport, or even restaurant bookings. Housekeeping was also great!
Breakfast and Meals
Every morning breakfast is cooked to order! This meant it was always deliciously fresh. We love the Agatha Christie feel of the courtyard too.
If you like steak and wine, then their RIB Restaurant is a must. Again, the staff were very helpful in explaining the menu and wines. Highly recommended.
Location, Location, Location!
Last, but certainly not least, is the impeccable location of the hotel. Within walking distance to downtown Lisbon and plenty of shopping options. It is also next to the Tagus River and has numerous transport options right outside the doorstep. The location could not be better!
Tags:
Lisbon