Ormina Tours releases extended 2018 program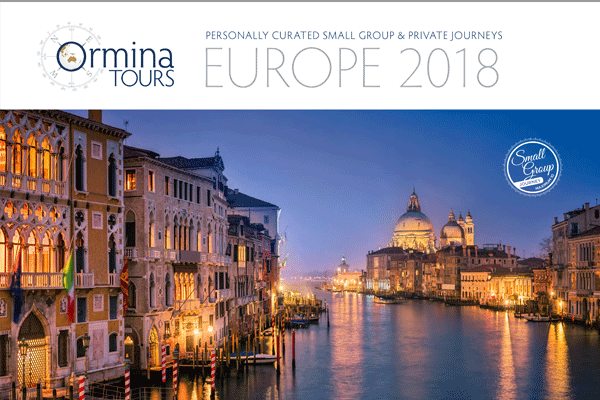 Ormina Tours launches an expanded 2018 tour range as the company continues to grow – Tuesday 17th July, 2017. Sydney, Australia. With such a successful launch of their 2017 program, Ormina Tours continues to redefine small groups touring in their 2018 program with the addition of three new Italian tours based around immersive experiences.
Ormina recognises that their clients tend to be well travelled and are constantly looking for new ways to experience Italy, which is why the new 2018 additions will provide travellers with the opportunity to visit new, undiscovered locations and become more involved in the Italian culture.
With 'Sicily Bella' being one of the best selling tours for 2017, Ormina is launching a new food and wine focused culinary tour over eight days in the region.
Food, wine, and truffles will be the focus of a second tour in the unexplored Piedmont region over a six-day period.
The third new tour brings another level of sophistication to travel, with luxury being the focus of a new Lakes and Mountains tour around Italy and Switzerland. A feature is the unprecedented quality of 5 star hotels used, particularly in Lake Como and Lugano and a train journey on the famed Bernina Express through the Swiss Alps.
Whilst keeping to its model of small luxury group tours, Ormina Tours has expanded its combinations to allow guests greater opportunity to combine its European tours back to back. Moreover, Ormina's departure dates continue to align with SilverSea and Uniworld cruise departure dates, making client travel across Europe even easier.
"The amazing positive feedback we receive from our clients tells us that our small group service offering, with a maximum group size of 10 and guaranteed departures with 2 persons, is a strong part of what makes Ormina Tours unique," says Ross Ioppolo, CEO of Ormina Tours. "More combinations and departures, and new immersive itineraries from a group specialising in Europe for almost 20 years, we strive to provide guests with unique, memorable and culturally immersive encounters that can be booked with confidence."
The 2018 small group tour additions are accompanied by an expansion in Ormina's FIT tailored private journey offering with new City Break experiences including Bologna, Franciacorta, Sardinia and Turin in Italy and The Cotswolds in the UK.
Media inquiries: Please contact Ormina Tours (Sydney: +61 2 8076 2295, [email protected]). Ormina Tours (www.orminatours.com) is a luxury tour operator, based in Australia that specialises in personally curated small group and private journeys in Europe. The group has tailored thousands of personalised journeys and small group tours over almost 20 years and enjoys creating curated European experiences for guests.
Tags:
News
,
Program
,
2018