Italy's Undiscovered Locations: The Five Villages of Cinque Terre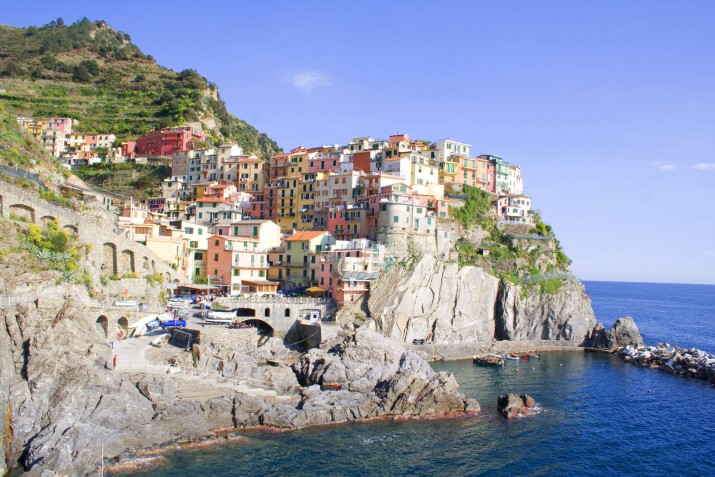 Italy's Undiscovered Locations: The Five Villages of Cinque Terre – Getting off the tourist trail is always an exciting experience that allows you to explore and discover further. The culture, the people and the tastes of local Italian become more authentic as you step off the beaten track. Across Italy it's almost guaranteed that you will find small spots that you've never heard of. There are incredible destinations in Italy that are often overlooked by travelers, but are just around the corner, if you know where to look. Follow our series of "Italy's Undiscovered Locations" to unlock some of these idyllic locations…
Italy's Undiscovered Locations: The Five Villages of Cinque Terre
Situated in the Liguria region amidst some of the most awe inspiring coastal scenery, Cinque Terre encompasses five glorious fishing villages. A UNESCO World Heritage site it has some of the best preserved natural and semi-natural areas remain, as well as offering an impressive view of the Mediterranean Sea. Cars were banned here over 10 years ago, so you'll have to access the area by train. Visit Cinque Terre as part of our Highlights of Italy North Small Group Journey, or let us help you arrange a Private Journey to the area.
Riomaggiore
Closest to the main city of La Spezia this village is only made up of one main street. Plenty of restaurants scatter the area across the harbor and rocky beach, where you can watch a beautiful sunset. Find the tunnel off the main street towards the train station and walk the windy residential streets Via T. Signorini. You will also find a castle and church to explore with idyllic views.

Riomaggiore, Cinque Terre, Italy
Manarola
Just north of Riomaggiore is another one street village with a small harbor area where you can swim – or cliff jump if you're game enough! You may recognise the area as many tourists who come here find it an extremely picturesque spot and enjoy taking their photos here. This town has a great relaxed vibe, and is a good place to grab an evening drink.
Vernazza
A beautiful and picturesque town with a church on the water and a castle that remains protected by an old wall. There was an extensive flooding and landslide in the area in 2011, meaning that it's been under repair since and offers a bigger carved out beach and some newer facilities of the 5 villages. There is also a good walk from Vernazza to Monterosso (amongst many other good hiking trails in the area).

Vernazza, Cinque Terre, Italy
Corniglia
You'll be fit as a fiddle as you arrive here after walking up the 365 steps far above the ocean on top of the cliffs. It's a great place to just get away from all the hustle and bustle. Surrounded by vineyards, the timeless narrow alleyways surrounded by colourful houses characterize the area.
Monterosso al Mare
The largest of the 5 villages, this might be the only place where you'll really see cars driving around. Made up of an Old and New Town which are linked by a tunnel, the area is well known for its lemon trees and anchovies. An abundance of sandy beaches and a nice stroll down the promenade makes it a great destination for families.
Tags:
Cinque Terre
,
Riomaggiore
,
Manarola
,
Vernazza
,
Corniglia
,
Monterosso