The Go-Getters Guide to Truffle Hunting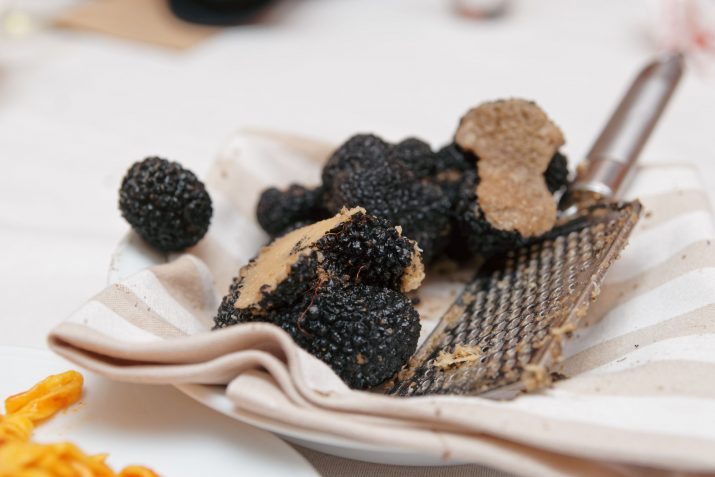 Truffles are a culinary treasure that are popular additions to Mediterranean dishes. They are found in several parts of Europe. The most well-known areas include the Istrian Peninsula of Croatia, as well as many provinces of Italy including Piedmont and Tuscany, and the Perigord region of France.
In addition to savouring these delicacies in your dining adventures, you can join in on a truffle hunt and watch skilled truffle hunters and their dogs find these firsthand in the woods and forests.
Here is our Go-Getters Guide to Truffle Hunting!
Let us help you plan your own truffle hunting excursion, or join in on one of our small group journeys that feature prime truffle territory such as on our 11-day Beautiful Croatia Small Group Journey or our 7-day Piedmont, Food, Wine and Truffles adventure.
What are Truffles?
Truffles are a fungus that grows underground near the roots of trees such as the oak and beech. The most famous type is the white truffle, which is the rarest and most expensive, and maintains its freshness for only a few days after picking. There are also several types of black truffles, which can last up to two weeks.
Why are Truffles so expensive?
Truffles are costly given they are rare and difficult to find and harvest. Their short shelf life also drives up prices. Specially trained dogs are used to search for and dig out the truffles, with the most common breed a shorthaired species called the Lagotto Romagnolo.
Some ingenious marketing campaigns in both Croatia and Italy catapulted their popularity. Posing truffles as a rare delicacy to be savoured in fine cuisine.
How did they become famous?
Croatia's Istrian Peninsula had not been well known as a source of truffles until 1999 when Giancarlo Zigante and his dog Diana unearthed a 1.35kg white truffle in the forests of Motovun. This huge truffle was awarded a Guinness World Record award as the largest truffle in the world. Instead of selling the truffle, Zigante used it to prepare a feast for Istrian townspeople, Croatian dignitaries, and the foreign press, causing Istria to become famed as a truffle destination for connoisseurs.
Italy's Piedmont had been recognized as the prime location for white truffles, centred around the town of Alba. A savvy marketing campaign was spearheaded by restaurateur and truffle hunter Giacomo Morra, who in the 1950s began sending the biggest, most precious white truffle each year to famous persons such as British Prime Minister Winston Churchill, American actress Marilyn Monroe and U.S. President Harry Truman. Alba became renowned for its white truffles internationally, and Morra founded an annual White Truffle festival to attract truffle tourism.
The Best Truffle Hunting Locations
Croatia's Istrian Peninsula is the country's prime truffle hunting area. The picturesque peninsula is shared by Croatia, Italy, and Slovenia.
The northern part of Istria contains the towns of Motovun and Buzet. The forests here are key hunting grounds for the Istrian white truffle, as well as the black truffles that are referred to as "Black Diamonds". Although Istria takes first place for truffle hunting in the country, the central area around the capital, Zagreb, is also gaining renown as a source for truffles.
Italy's leading truffle hunting region is the province of Piedmont. The town of Alba has attracted the most fame for its white truffle production, along with its Barolo and Barbaresco wines. Italy, however, does not lack for other truffle regions. These include Tuscany, Umbria, Lombardy, Liguria and the Veneto amongst others.
Truffle Festivals
Both Croatia and Italy celebrate the truffle though local festivals during the prime white truffle hunting season in Autumn. In Istria, the town of Buzet holds the Subotina Festival on the first Saturday of September, during which a giant truffle omelette is prepared.
The next two months are full of truffle festivities, including Livade's Zigante Truffle Days on weekends until mid-November. While Motovun's Teran and Truffle Festival is in mid-October, during which visitors can enjoy truffle pairings with the local red wine.
In Italy, Alba maintains its eminent position as the centre of Italy's white truffle region. Celebrated annually with the Alba White Truffle Fair over two months from early October to early December. Tuscany also holds several local truffle fairs in November, including those in the towns of San Miniato between Pisa and Florence, and San Giovanni D'Asso located southeast of Siena.
Join a Truffle Hunt and the Best Truffle Hunting Months
In both Croatia and Italy, visitors can join in on the thrill of a local truffle hunt! The truffle hunter and his trained dogs lead groups into the woods in search of the rare treasures. The dogs use their keen sense of smell to track down potential sites to look, then dig excitedly to unearth the truffle. The hunter must stop the dog once it has found the prize and provide a little reward, ensuring the dog doesn't eat the truffle itself!
The hunter uses a special trowel to dig out the truffle, then carefully replaces the soil so that new truffles may hopefully grow. The education of the truffle dog can take several years and is so important to the industry that there is even a university for truffle dogs in the town of Roddi in Piedmont's Langhe region.
The white truffle season is more limited than that of black truffles. Its scarcity contributes to its price and renown in culinary circles. The white truffle season runs from autumn through early winter, beginning in September and extending to January. Black truffles can be found in all seasons, so truffle hunting activities can occur year-round.
Ormina Tours can help organise your truffle hunting experience or join one of our tours! Our Beautiful Croatia tour takes you on a truffle hunt while exploring the scenic Istrian Peninsula. Or join our Piedmont; Food, Wine and Truffles trip. It includes an exploration of Alba and the Langhe region along with a truffle hunting adventure in the Piedmont countryside.
Tags:
truffles
,
Piedmont
,
Motovun
,
Istrian Peninsula
,
Istria
,
Buzet