Top five hidden places to visit in Italy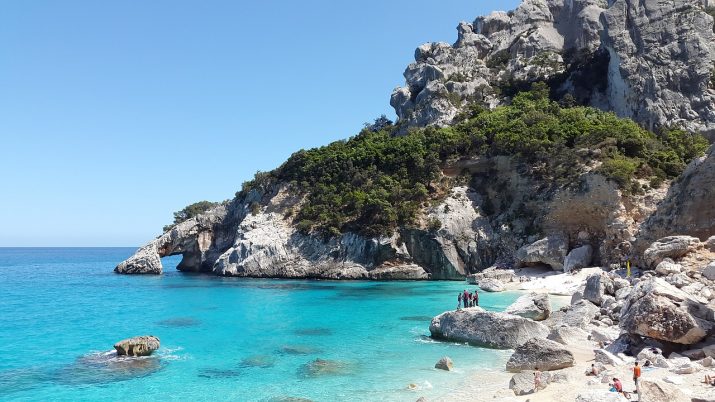 If you want to move away from popular tourist destinations, towards uncrowded and undiscovered locations, then we've got you covered. Here is our list of places to discover in Italy that will take you away from the crowds. Enchanting spots where you can admire and contemplate incredible landscapes, become accustomed to a quiet and simple daily hamlet life, and enjoy a coffee or a gelato in a tranquil bar.
1) Liguria
While Cinque Terre is beautiful, the Liguria region has more to offer to travellers. It is a stunning vertical region, squeezed between the blue sea and green mountains. Pastel colored villages lie on the water or perched on the Apennines offering an incredible biodiversity in agriculture, and consequently in the culinary sphere. We love this region that much that we described its food and wine in this post. Genoa is the capital and is home to a unique mix of contrasts from Grand Palazzi to tiny secluded corners. It also hosts the largest historical center in Europe, elegant sea promenades, and neighborhoods perched on hills reachable only by panoramic lifts.
We recommend staying in the area of Tigullio and the Paradiso Gulfs, in Camogli or Santa Margherita Ligure, located between Genoa and Cinque Terre. This location is beautiful and strategically positions you to easily access a large part of the Liguria region. Nearby are verdant valleys where you can swim in clear and calm streams, enjoy a traditional lunch in a simple trattoria, visit cute and quiet villages, and enjoy the stunning landscapes.
2) Sardinia
Sardinia is a large island in middle of the Mediterranean, well-known for its emerald sea, beaches of snow white sand and international jet set clubs – especially in the Northern part, Costa Smeralda (Emerald Coast). However, Sardinia is much more than this, as the island offers a unique isolated biodiversity. Vast isolated sandy beaches lapped by crystalline sea, a bio-diverse hinterland which includes archeological sites of the Nuragic civilization, murals inspired by shepherds and immortalised in its street art in the hill town of Orgosolo, hiking in the mountain trails of Barbagia, as well as a distinct geographic and spiritual heartland and coastal trekking routes. All these wonders can be enjoyed on our Sardinia program that can be fully customised to suit your travel preference.
3) Tuscany
This region is one of the most famous tourist destinations in the world, yet it still hides secret corners full of charm, character and a depth of history. At Ormina Tours, our philosophy is to celebrate life, and what better way to do that than to embark on a wine tour across Tuscany's wine regions like Montepulciano or Bolgheri. We also love supporting small family run wineries where our guests can enjoy time with the owner or the wine maker in a private setting.
As Tuscany is so famous for its medieval and renaissance treasures, we suggest you visit some of the ancient hamlets in the area, such as those on the Etruscan Coast near Bolgheri, and in the Casentino Valley near Arezzo and in Val D'Orcia. All our Tuscany programs can be customised adding undiscovered and uncrowded destinations.
4) Puglia
Puglia has risen the top ten of Mediterranean tourist destination very fast in the last few years. Well-known are the Trulli conical houses, old white villages built in the local limestone material as Ostuni, towns dominating fiords and reflecting in the blue Mediterranean sea such as Polignano A Mare, and baroque towns like beautiful Lecce. Puglia is a large region and has so much to offer.  Get lost wandering through the small white hamlets in the Salento Peninsula, amongst the countryside of the Itria Valley and tasting local food delicacies. Puglia is also a triumph of historical tracks, ghost towns such as those on the Gargano Peninsula, and towns built on a doline like Gravina di Puglia, not far from Matera, and spectacular with its cuniculi, acqueducs and caves.
5) Sicily
Sicily, thanks to its incredible history made of different dominations (Greeks, Arabs, Normans, Angioinians, Borboni and more), is a region with several aspects and experiences to enjoy. They are also close to its major tourist spots such as Palermo, Agrigento and Taormina.
The island offers a number of different wine regions including Etna, Marsala, Alcamo, Vittoria, and Sambuca di Sicilia (just to mention the main ones) sprawled across beautiful hills and mountains. There are so many great wineries, and with bookings required, it's never crowded. Other great experiences, far from the multitude of people, include outdoor activities. Hike across Mt Etna and other volcanoes on the Eolian and Pantelleria Islands, and enjoy river rafting on the Alcantara river near Taormina, finishing your day with delicious food and virgin oil tastings, click here to get inspired!
Tags:
Tuscany
,
Sicily
,
Puglia
,
Sardinia
,
Liguria