The New Paris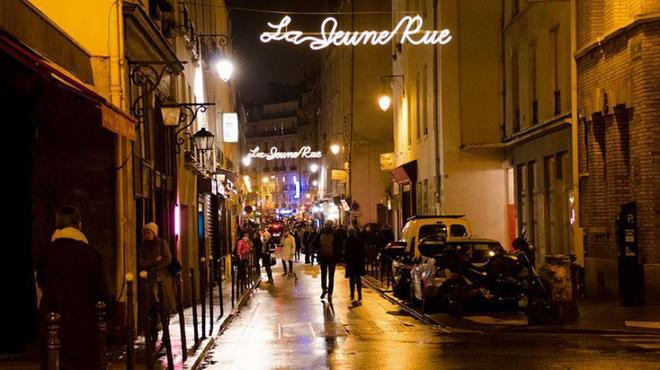 Le Marais is almost a social experiment in the heart of Paris.  Building off the history of Le Marais, one of Paris' most notable districts is La Jeune Rue, an urban renewal project that includes 3 'concept streets' that bring together high end design, sustainability and French savoir faire.
Cédric Naudon, an ambitious 42-year-old French entrepreneur who made a fortune in finance and real estate, decided to buy more than 25 stores in the northern Marais (on Rue du Vertbois) with the goal of creating a sort of epicurean village, which he is calling La Jeune Rue. Naudon imagined bringing back the butchers, bakers, florists and fishmongers that once populated Le Marais, but in an entirely new way. According to a statement issued by Naudon, central to his plan is the concept of consuming differently. The idea is to produce better, eat better and live better by bringing produce from the very best suppliers, and facilitating dialogue around the way we consume and trade, he explained at a press conference in January. The project also promotes different forms of agriculture, such as agroforestry and permaculture.
With ethical sourcing and top-notch design in mind, Naudon conceptualized the first store, a sustainable fishmonger created by British designer Tom Dixon, which will be opening soon. The chic seafood spot will eventually be joined by other food and drink spots dreamed up by top designers, including an Italian restaurant from Patricia Urquiola, a tapas bar by Jasper Morrison, a speakeasy by Ingo Maurer, a Korean street-food concept fromPaola Navone and a butcher shop by Michele De Lucchi. Although Naudon comes from a finance background, he did take a foray into food in the past with Le Sergent Recruteur, the two Michelin–starred restaurant he opened a year ago with chef Jaime Hayon, a student of Michel Bras. Hayon is also contributing a Japanese club to the current project.
When visiting, be sure to stop by "Wallpaper", a concept store that boosts the most remarkable and best-designed culinary tools and accessories.  It's the perfect place to pick up a small souvenir to remember the designed obsessed area.  Be sure to grab a drink at the legendary speakeasy by designer Ingo Maurer.  It's hard to find, but if you knock on the right door, you'll be in for a fantastic night.  If you are looking for something lighter, check out one of the many local juice bars to rejuvenate.
Don't leave without checking out Anahi by designer Maud Bury.  The cracks in the wall are filled with cooper and their specialty, lomo (Argentine steak) paried with black pudding is sure to impress.
Update – Within 12 months of the announcement, this experiment has officially ended and with a great deal of controversy.  Read our follow-up story here.
Tags:
Food
,
France
,
Paris
,
Shopping