Sardinia's street art – the murals of Orgosolo
While the street art and murals found throughout the town of Orgosolo are a fun way to discover this small town, there is actually an interesting history behind their origins.
Sardinia is a winding maze of small country roads through the rugged mountainous landscape. One of the less populated areas of Italy, or even Europe, Sardinia boasts some remote and traditional areas that make the island so unique.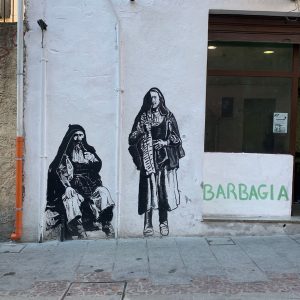 And it is just this remoteness which served a purpose for those who came to Orgosolo. The towns history identifies itself as a hideout for outlaws and bandits who came to elude authorities, hide the kidnapped and cement Orgosolo's reputation as a place of villainy. So well known, in fact, that film maker Vittorio De Seta based his 1961 film Banditi a Orgosolo (Bandits of Orgosolo) on the town.
The murals were in fact started by a local art teacher, Francesco Del Casino, who wanted to teach kids a new way to express themselves than resorting to becoming a bandit. In the 70s and 80s Francesco worked with disadvantaged youths to paint the streets in a cubist style. The stories depict global social injustices – from Vietnam to Gaza, as well as calling for Sardinian independence. Others simply depict scenes from everyday rural life.
Some of the first murals show the Pratobello revolution, when the town successfully resisted the Italian miliatry's plan to create a base on common land used by local shepherds.
Today, various artists and local groups have gradually added their own creations. And while Orgosolo was where the Italian muralist tradition began, you will also find other towns like San Sperate, Villamar and Serramanna that have adopted the idea and continue ot use it as a way to express global and international themes. Numerous murals adorn so many communities in Sardinia's inland provinces, and they portray in their own beautiful language the culture and customs of the local people.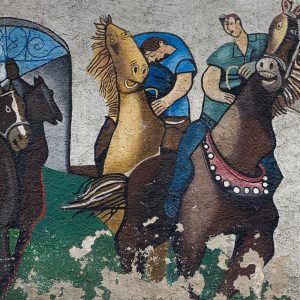 While Orgosolo is famous for its murals it is still yet not set up with much in the way of tourism. You will find a selection of souvenir shops that sell written mural guides in a number of languages, as well as a few local cafes and gelati vendors. Nevertheless, it's worth wandering the streets and discovering this quaint town and the history of Orgosolo.
If you are interested in visiting Sardinia get in contact with us today and we can help create a tailored itinerary for you. You can also check out our suggested itinerary here – fully customisable to suit your needs.
Tags:
travel tips
,
Sardinia
,
Orgosolo
,
street art
,
art