Matera: Guide to Eating
Matera is a wonderful labyrinth of alleyways, with food places and boutique shops in every corner. It can be confusing where to find the best places to eat. We've listed a few here to help point you in the right direction of a good feed while you're visiting.
Be sure to check out our Puglia Tour, which includes 2 nights in Matera.
Osteria MateraMì
Via D'Addozio, 4, 75100 Matera MT, Italy
+39 328 469 8633
https://osteriamaterami
Closed Wednesdays
Located just by Le Origini Suites, this traditional food Osteria offers a range of delicious local foods for both lunch and dinner. The food is delicious with the portions are decently sized, and it won't burn a hole in your pocket. Even better, if you choose to sit outside you have an amazing panoramic view of the old town of Matera.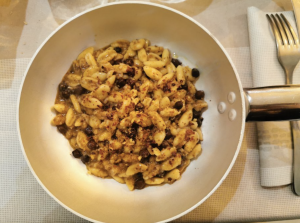 Trattoria Lucana
Via Lucana, 48, 75100 Matera MT, Italy
+39 0835 336117
http://www.trattorialucana.it
Closed Sundays
This little trattoria near the main square of the old town of Matera is famous for being Mel Gibson's 'go-to' place to eat every day while he was on set filming 'Passion of the Christ' – they even have a pasta special named after him! The service is friendly and the food abundant! You'll even see pictures of Mel in the kitchen adorned upon the walls. Worth a stop, even if just to say you did so!
TIP: stop by here for lunch to beat the crowds at night.
Osteria al Casale
Via Casale, 24, 75100 Matera MT, Italy
+39 329 802 1190
http://www.osterialcasale.it
Closed Wednesdays. Only open for dinner, lunch on Sundays only.
If you're looking for some local Basilicata food with a modern flair, or perhaps craving some wood-fired pizza, look no further than the Osteria del Casale. Located right by the Sassi Miniatura, and about a 5min walk from Le Origini Suites. The restaurant has an intimate setup with the head chef and owner, Fabio really expressing his passion and commitment to food in all the dishes. It's best to try and make a booking here.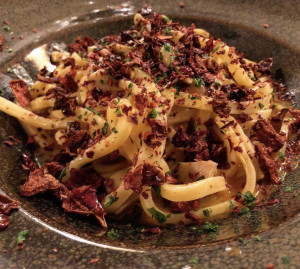 Dedalo – Sensi sommersi
Via D'Addozio, 136/140, 75100 Matera MT, Italy
+39 0835 197 3060
https://www.dedalomatera.com
Closed Tuesdays
Modern dining in a renovated cave makes this restaurant a truly memorable experience. Based on Greek mythology, Daedalus, the great Athenian architect, sculptor and inventor, was imprisoned by King Minos with his son Icarus in a mysterious construction – this restaurant was created as a maze taking over 3 years of restoration to get where it is today. The amount of detail and attention is paid to the food and service. The tastes are spectacular and the wines simply great. Ask for the tour after dinner to find out more…
If your mouth is watering, it's time to book your next trip. See our Puglia Tour here, which can also be taken as a private itinerary.
Tags:
Puglia
,
matera