What's in the Centre of the World's Largest labyrinth?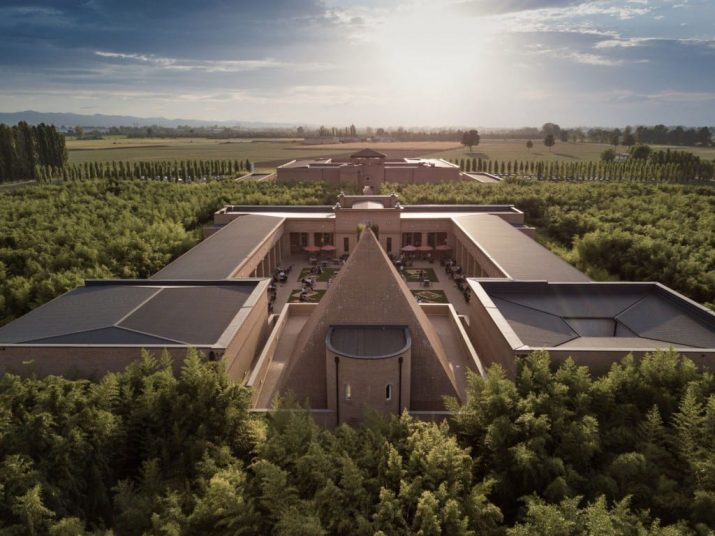 Introducing the world's largest labyrinth. At the centre you will find a Michelin-starred restaurant curated by chef Massimo Spigaroli.  It was envisioned and created by the famous Italian art publisher and magazine editor, Franco Maria Ricci.
Labirinto della Masone is an experience you will never forget.
This intriguing garden comes from a promise Ricci made in 1977 to Argentinian writer, Jorge Luis Borges. Jorge had always been fascinated by the symbol of the labyrinth, especially as a metaphor of the human condition.
The maze is built entirely out of bamboo plants (around 200 thousand in total) and also includes art exhibits and two suites for anyone wishing to spend the night in a fantasy.
The central Michelin-starred restaurant is curated by the renowned chef Massimo Spigaroli, owner and chef at renowned Antica Corte Pallavicina restaurant, which is included in our Emilia Romagna Regional Discovery.
The city of Parma is located a stone's throw from the food lover's paradise.  This makes the maze is a perfect addition to anyone enjoying a food tour of the Parma and Busseto regions.
Lost in the Labyrinth
Ormina's Sonia Speroni recently visited and managed to escape the maze in time for an aperitif at the Bistro.
"The experience is incredible!  The maze is like a teasure hunt, it's actually very hard to get out, all the hedges are the same and there are very few points of reference."
Getting lost is the point, as Ricci believes that a labyrinth symbolizes the human path through life, and the difficulties "that every one has to overcome during his long or short-lasting life." While we all want to find ourselves, Ricci belives that getting lost may be even more memorable: "The emotion of getting lost is unforgettable for everyone."