Italian Home Cooking Experiences
At Ormina Tours we aim to provide travellers with truly unique local experiences that immerse them in the traditional culture and contribute to the local economy. Our home cooking classes are just one of these amazing experiences.
In Italy we work with a special community of hand-picked cooks from across the country. They are passionate about their local foods and want to share their culture and tastes with the world. Each cook will welcome curious travellers into their own home for an immersive culinary experience that you will not forget!
Here are just a few of the cooks we work with:
Juanita loves cooking and accidentally stumbled on the home cooking community while reading the newspaper one day. She loves the idea of telling the stories of her family and the region through food. "I love being part of this huge family that is spread all over the country!"
Read our one on one interview with Juanita here.
Barbara loves sharing her cooking, but also her hilltop home in Tuscany with all her international guests. The at home cooking network has given her the chance to connect with the community and share her traditional recipes passed down from her grandmother.
Read the full interview with Barbara here.
Anna has been passionate about culinary experiences for as long as she can remember. "It's so much more than just cooking… for me, it's about sharing with other, discovering recipes and hosting friends to try new things together". Anna has been working at an at home cook sharing her knowledge of food and making new friends from all around the world for three years now.
We spoke to Anna face to face, read the full interview here.
Participate in a live cooking class with one of the cooks in this at home cooking community and enjoy making traditional Italian recipes with a local from your own kitchen.
Use the code: ORMINATOURS to get 10% off.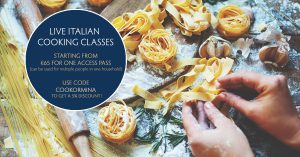 Click here for more information.
Tags:
Tuscany
,
Puglia
,
Liguria
,
Siena
,
cooking
,
recipe
,
Bari
,
Genoa
,
Genova