Must Do Cultural Experiences in Florence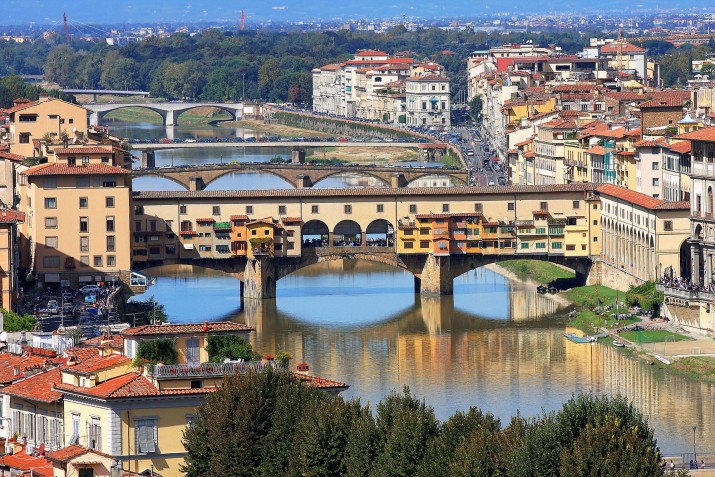 The capital of Italy's infamous Tuscany, Florence hosts many iconic masterpieces. From Renaissance art to spectacular architectural works like the Duomo. The city bustles with artistry and craft, culture and science, set amongst the enchanting rolling hills. We speak with Fabio, concierge at one of our favourite hotels in Florence, Hotel L'Orologio, about his local recommandations and insider tips!​ 
What city tours would you recommend?
For something a bit more 'off the beaten path' I would recommend the "Oltrarno street art and food tour" and  "The Medici dawn and rise of a dynasty".
The Oltrarno district is the most authentic expression of the Florentine popular culture and environment – a must do discovery. The history of the Medici family has so many sites to discover but one of them, in my opinion, makes this tour special, which is the "the Laurentian complex".  Get in contact with Ormina Tours today to help you organise a private or group tour.
Where can a traveller find an authentic local experience in your city?
Walk your way into a unique artisan ministry of leather production "Scuola del Cuoio" (The Leather School), annexed to the Basilica of Santa Croce.  Visits can be booked online on their web site here.  This visit will allow you to understand the history of Scuola Del Cuoio, the gilding process, explain the different leather-making techniques, and see the two collections produced in the workshop: Classic Collection and Francesca Gori's collection and a demonstration of the different types of skins.
What day trips outside of the city shouldn't be missed?
The Tuscany region offers an incredible variety of cities, attractions, and countryside where you can enjoy a full day outdoors and away from the city buzz. Our small historical towns are indeed some of the main attractions, especially the ones that are located in the Chianti territory. The ideal plan can be to put together one of the authentic towns of the Chianti and then to stop in one of the hundreds wine estates that populate this region. One of the Ormina Tours experts will be able to help you build a perfect itinerary customised to your liking.
If you want a fun night out where would you suggest?
Your unforgettable night in Florence must start by enjoying the sunset from the Piazzale Michelangelo. The view you will overlook is the postcard you will forever carry in your heart and make you desire to come back. Florence offers a variety of attractive bars where you can go and taste a drink and enjoy a friendly and young atmosphere. The drink that best evokes the magic eyes of any bartender in Florence is of course the "Negroni". The history says that 100 hundred years ago this drink was invented in Florence by the Conte Camillo Negroni. A great bar to  enjoy your night in Florence is Rasputin in Piazza Santo Spirito. Florentine's love to stay out especially on their main squares and Santo Spirito is one of them. If you wish to enjoy a great dinner in this district I suggest either Santo Bevitore (a great gourmet Tuscany stile restaurant) or Il Cestello ( the finest fish restaurant you can find in Florence). If you wish to continue, the after-dinner plan can be to stay in the Oltrarno district and head back to Santo Spirito square where you will find live music at the "Tamero Bar". Another cool and friendly destination especially for live music lovers is the "NOF Music Club " also located in the Oltrarno district.
What's your best advice for someone visiting your city?
Florence reflects in the eyes and minds of worldwide visitors as the capital of Renaissance, but this is not the only or most important aspect that should be considered when planning to come. One of the highest expressions of this territory is the variety of artisans and craft specialists that during the centuries has made Florence famous worldwide. This is one of the reasons I strongly suggest entering in some of our wonderful artisan laboratories called "laboratori artigiani".
For mosaic lovers, you cannot miss "Scarpelli" in Via Ricasoli, 59 R, a master of the hard-stone craft. If you want to know about leather crafts, as previously mentioned, the Leather School in Santa Croce Basilica is the greatest spot you can go to learn and admire. Florence is also incredibly well-known for its shoemakers and if you are ready to purchase a unique pair of shoes go and visit "Mannina" in Via Guicciardini, 16. Jewellery has long been a field of exploration for our artisans and here the choice is incredible also. Head out to visit the La Bottega degli Orafi in Via de Benci 20/R of Gianluca Cassigoli who produces jewellery in gold, silver, and iron decorated with stones using the best Florentine techniques.
Any other tips, hints or must experience suggestions
Arrange a visit in an authentic medieval Florentine home. Palazzo Davanzati is the only palace where you can still experience how life was seven centuries ago.
Are you a fashion lover? Take an hour or two of your time to  visit Palazzo Ferragamo. Florence is the city of this worldwide known family brand still enhanced and fostered from the flagship store located in Piazza Santa Trinita on the top of which the Palace can still be visited throughout all the days of the week.
Florence is also a bike friendly city, and to get around a bike can be your best friend. Bikes can be rented very easily or ask your concierge.
xx

What is Les Clefs d'Or Italia?

Fabio Menta is a member of Les Clefs d'Or Italia (aka the International Union of Hotel Concierges "The Golden Keys"), which was founded in Paris in 1952.
Les Clefs d'Or is an association of professional hotel Concierges that aims to help improve and maintain the quality of service provided by concierge staff across hotels worldwide.
You can recognize Clefs d'Or Concierges by the keys displayed  on the lapels of their uniforms. These crossed golden keys are more than just the symbol of the association; they are the symbol of guaranteed quality service. While encouraging friendship and solidarity among its members, Les Clefs d'Or also teaches members to continually improve their professional abilities. It is the very solidarity of its members that gives Les Clefs d'Or great power on an international scale and allows its members to accomplish the impossible for their hotel guests: In Service Through Friendship.
Tags:
Italy
,
travel tips
,
Florence
,
Tuscany
,
Great Hotels
,
Northern Italy
,
rest