Berlin Street Art Tour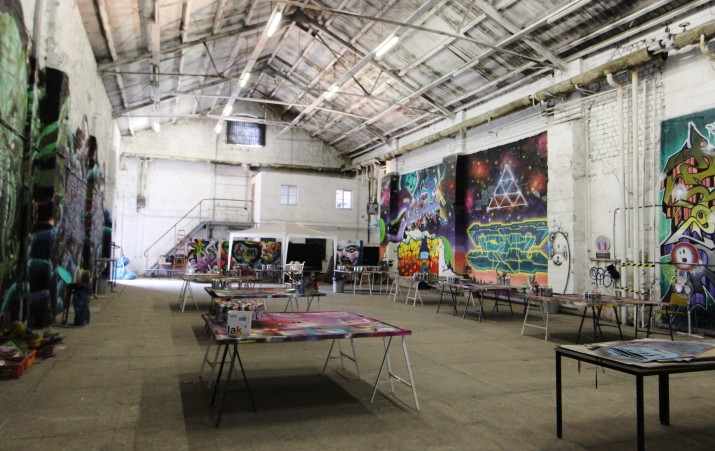 Berlin is famous for it's street art.  Some say it's because the city only has 35 people in their anti graffiti unit for over 3.5m Berliners coupled with low penalties when caught, but the truth is Berlin is a city constantly evolving and art and expressionism is a huge part of its developing identity.  Thanks to the folks at Alternative Berlin who hosted us on a Berlin Street Art Tour, we got a first hand look at some of Berlin's greatest street art and even took a workshop to learn the technique.
Berlin's region of Kottbusser is one of the richest for street art.  The area was surrounded on 3 sides by the Berlin wall which made it unattractive and undesirable by the more wealthy Berliners.  The area attracted immigrants and the quickly growing Punk movement which saw the birth of the street art culture.
Our first major work we stumbled across was commissioned for the a festival put on by a street art magazine called Backjumps in 2007.  The work is by Victor Ash a Portuguese artist.  He cleverly used  the reflection of a flag on the wall by a nearby car dealership to make a dramatic effect at night you can see here.
We next studied walls and walls of graffiti to understand different techniques before our workshop and we learned the important difference between street art and graffiti.  Street art is very complex and beautiful works of art.  They take time so if they are painted like our astronaut, are typically commissioned.  In the 80s and 90s a new type of street art emerged with a technique using glue and printouts to move quick and get large scale artwork places up where they didn't belong.  Street art often has social or political statements and just like modern artists before them, artists are often taking a stand against the current professional art world.  With artists like Shepard Fairey and the illusive Banksy pushing the boundaries, street art is now sought after for any major collector.
Graffiti is very different.  Graffiti artists make their name (literally) by plastering it over and over again on more and more dangerous spots.  There are simple tags (just your name written) which need to take less than 4 seconds to not get caught.  There is also a more detailed 'throw-ups' which take 30-40 seconds and includes more colours and depth.  Graffiti artists get recognition in 3 ways 1. How many tags you have across the city 2. the creativity of your tag and 3. the difficulty of the tag.  There is a unspoken rule that you do not paint over someone's work but sometimes it happens and can often lead to year long battles between 2 artists.
We then headed to the workshop to try out our skills but first stopped to admire a piece by Blu, and Italian artist.  He never gave an explanation for what the piece was about but it definitely leaves room for interpretation.
We concluded our Berlin Street Art Tour with a workshop, were we learned a technique using stencils.  We carefully cut out the stencil and then used spray paint to create a textured background finishing with the contrasted image on top.  Rob our teacher created 2 in about 30 seconds where it took me about 20 minutes but in the end, it's a little piece of self made street art I am proudly hanging in my house.
For questions about the Berlin Street Art Tour or any other Berlin activities please contact us.
Tags:
Berlin
,
Tour Review