5 Reasons Why You Should Visit Sicily
Do you want to explore a unique and beautiful Mediterranean Island?
Then, all you need to do is book tickets for Sicily. Located at the tip of Italy, Sicily is an island with a charm.
Sicily is a grand island to spend your vacations.
The magnificent island is home to beautiful archaeological sites from Greek and Roman times, widespread beaches, and even the active volcano named Mount Etna. Another reason to visit Sicily is the tasty cuisine and wine that you will find in the island. The people are also quite hospitable and friendly.
There are many reasons why everyone needs to visit Sicily once in their lifetime. The following blog names five reasons, but they are surely enough to excite you about this magical island.
Let's get started!
1. Beautiful Archaeological Sites
Sicily is home to the Regional Archaeological Museum, Ragusa, museums, the Temple of Concordia, the Temple of Selinunte, and other archeological sites representing Greek and Roman culture. These structures and monuments have been preserved for ages. They make Sicily an excellent place for historical visits.
You will find beautiful archaeological sites all across Sicily. In the Island's southwest region, there is Agrigento's Valley of the Templates that includes the Temple of Concordia.
Towards the southeast coast, you will find an amphitheater that was built in the 5th century B.C. In fact, it is still used for theatrical presentations today. In the same area, you will find a 3rd-century Roman amphitheater.
Further south, you can visit Ragusa, which is a UNESCO World Heritage Site. Other towns with the same status in the south include Scicli, Noto, Modica, and Val di Noto.
Go north towards the hilltop region of Taormina, and you can visit Teatro Greco that goes back to as far as the 3rd century B.C. This theatre now organizes concerts and film festivals.
The Regional Archaeological Museum is also quite famous, as it showcases artifacts and sculptures from the old times.
Then, there is the Temple of Selinunte – a settlement from the 7th century. Despite being conquered by various armies and even being destroyed by an earthquake during the Middle Ages, it stands miraculously.
Accordingly, Sicily can give you a great ride to the past.
Learn more about the island's history in our 5-minute history tour of Sicily.
2. Food & Wine
When it comes to culinary, Sicily is heaven for delectable dishes and wine. Besides having Italian cuisine, Sicilian dishes also have French, Middle Eastern, Spanish, and Greek influences. On the other hand, Sicilian wineries are prominent for having their dessert and table wines.
Sicily has a lot to offer, whether you are a wine lover or someone with a sweet tooth.
Sicilian cuisine is quite diverse as it is influenced by various cultures that once inhabited the land.From the savory Pasta con le Sarde (Pasta together with sardine) to seafood couscous inspired by flavours from North Africa, you can take your taste buds on adventurous rides.
Or how about some Arancini? It is a deep-fried risotto ball.
And let's not forget the tasty desserts. Sicily is a heaven when it comes to delectable desserts, including its famous almond cookies, granite siciliana, cannoli, and cassata.
The Island is also famous for its regional wine, just like other cities in Italy. The Sicilian wineries are known for their wide variety, such as Nerello Mascalese, Malvasia, and Frappato.
Sicily is quite well-known for its Marsala wine.
You can also go on a wine tasting tour where you can learn how the island's most famous wines are made and even take some of them home with you.
3. Stunning Beaches
Sicily is surrounded by the Ionian, Tyrrhenian, and Mediterranean Seas. With such a varied coastline, you will find miles of beautiful beaches in Isola Bella, Scopello, Palermo, and various islands.
If you want a serene getaway, then Sicily is your place. With its luxurious beaches, Sicily is the best place to spend your retirement.
You can visit the Isola Bella near Taormina, where you will find a beach club, dining area, umbrellas, and beverages. Or, you can hop on a cable car from the hilltop to visit the beaches located at Mazzaro.
Towards the north, you will find beaches at Palermo, such as Magaggiari, Scopello, and Cefalu.
Although Sicily is itself an island, it is surrounded by even more islands.
You can find the Aeolian volcanic islands off the North East coast. On the other hand, Pantelleria is one of the largest satellite islands near Sicily, and it is just 37 miles east of Tunisia.
In the Egadi archipelago, you will find the magnificent island of Favignana. Or, if you want a more rocky adventure, then Lampedusa island is the place to visit.
4. Mount Etna
Mount Etna is Europe's tallest active volcano. Sitting at the height of 3.323m, Mount Etna is known for its dramatic release of ash ascending over the majestic island. It has four Crater areas where tourists can hike during the summers. You can even ski downwards from the north face of the volcano in the winter.
There is nothing more spectacular than seeing Mount Etna erupting. However, only a few are lucky enough to do so.
The pods of ash and fire erupting from this volcano can rise to a massive height of 11000 up in the air.
Snowcaps might seem odd together with an active volcano. However, you can ski down from the northern face of the volcano during winters.
There are various opportunities for tourists across the volcano. But even viewing the spectacular views of Mount Etna is something to remember.
5. Hospitable Culture & Tradition
Sicilian people are some of the most hospitable people across the world. You can attend festive events organized across Sicily throughout the year, like the Sagra Della Ricotta. The culture and tradition of the Island are pretty rich.
People in Sicily are welcoming to tourists. Festive events that honor patron saints, seasons, and holidays are celebrated all year round in Sicily.
For instance, the Almond Blossom Festival lasts for up to 10 days in spring, cultivated with music, traditional costumes, and parades.
In late April, you can attend Sagra Della Ricotta in Vizzini that is organized in particular to celebrate the cheese used in savory dishes, cannoli, and cassata.
Easter season also brings Holy Week processions and carnival. Attending these festivals will allow you to experience the authentic tradition of Sicily.
There is a lot to do in Sicily whether you are looking for a fun filled adventure or a serene getaway.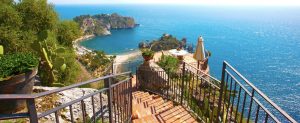 You should particularly visit Sicily because of its beautiful archaeological sites like the Valley of the Temples, stunning beaches like Magaggiari, and Mount Etna. You can also participate in their festivals like the Almond Blossom Festival and Sagra Della Ricotta. And you will also indulge in the Pasta con le Sarde, almond cookie dessert, Marsala wine, and much more of the Sicilian cuisine.
Visiting Sicily can be a memorable experience for you and your loved ones. There is something new that you can explore every day.
Are you ready to visit Sicily with friends?
Explore our 10 days Sicily Bella itinerary to make the most of your visit.
Tags:
Sicily
,
Sicily Bella
,
Mount Etna